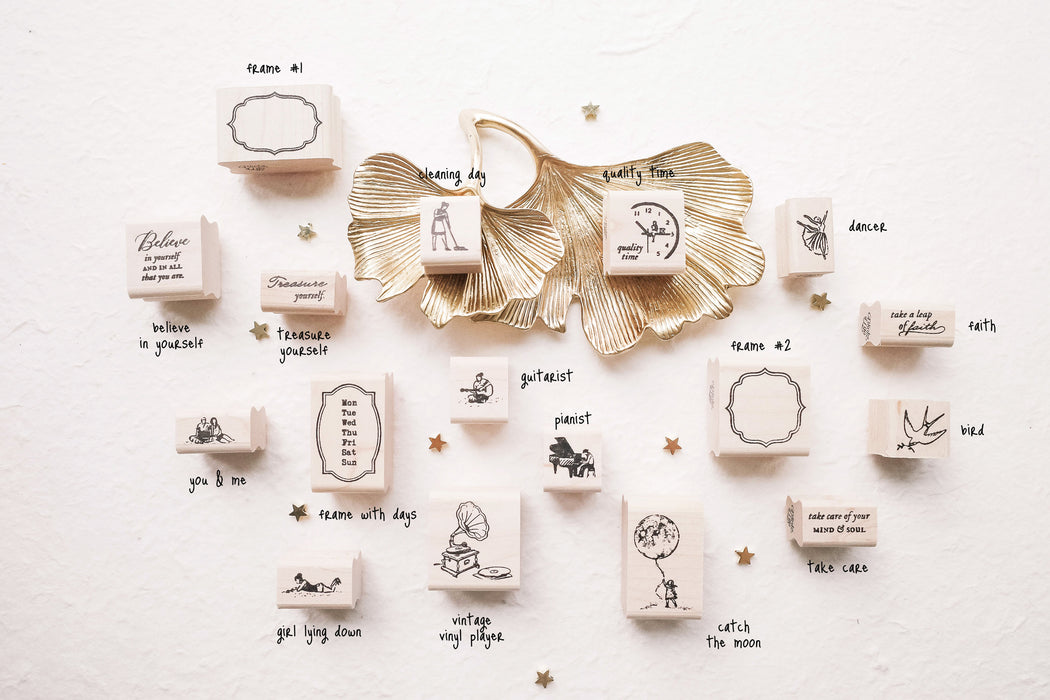 Life Story III
Sold out
Original price
$12.50
-
Original price
$16.50
  MADE TO ORDER ONLY - LIMITED EDITION  
A collection of hand made stamps using our classic maple wood handle.
These stamps are made to order only. They're each hand cut and the impression on the wood are individually hand stamped. No two stamp are alike.
Pre-Order will close on 13th Aug.
Will start shipping in late August - early September.
Available for a limited time only.
Sizes:
Girl lying down - 1 x 0.5 in
You & Me - 1 x 0.5 in
Dancer - 1 x 0.5 in
Quality Time - 1 x 1 in
Vintage Vinyl Player - 1.25 x 1.25 in
Catch the Moon - 1 x 1.5 in
Bird - 0.75 x 0.75 in
Guitarist - 0.75 x 0.75 in
Cleaning Day - 0.75 x 0.75 in
Pianist - 0.75 x 0.75 in
Take a Leap of Faith - 1 x 0.5 in
Take Care - 1 x 0.5 in
Treasure Yourself - 1 x 0.5 in
Believe in Yourself - 1 x 0.5 in
Frame #1 - 1 x 1.5 in
Frame #2 - 1.25 x 1.25 in
Frame with Days - 1 x 1.5 in

Hand made in USA